PledgeLA was featured on Univision KMEX 34 Los Angeles several times this month to highlight the opportunity the PledgeLA Founders Fund provides Black and Latinx entrepreneurs in LA.
2021 South L.A. founder alumna, Guadalupe Tlatenchi, CEO of GTLA Apparel Development, and AnnenbergTech's Calvin Selth, spoke with Univision's Norma Roque about the success of the Founders Fund program in helping early-stage businesses scale and find growth capital. In a series of ensuing news interviews, PledgeLA's Advisory Committee Member and Partnerships Chair Elianne Rodriguez, was also interviewed about the impact of the program. 
In case you're not a Spanish speaker, you can find an English transcript of the segment below.
Univision, the leading news network in the county, highlighted the support and mentorship that PledgeLA provides to help early-stage businesses grow. A key focus of PledgeLA's work is ensuring entrepreneurs receive non-dilutive funding so that they build their wealth as they build their business.

More coverage of  PledgeLA's Founders Fund is expected ahead of the April 10th application deadline. Twenty new companies led by Latinx and Black entrepreneurs will be selected to receive $25,000 in non-dilutive funding and accelerator training from Grid110.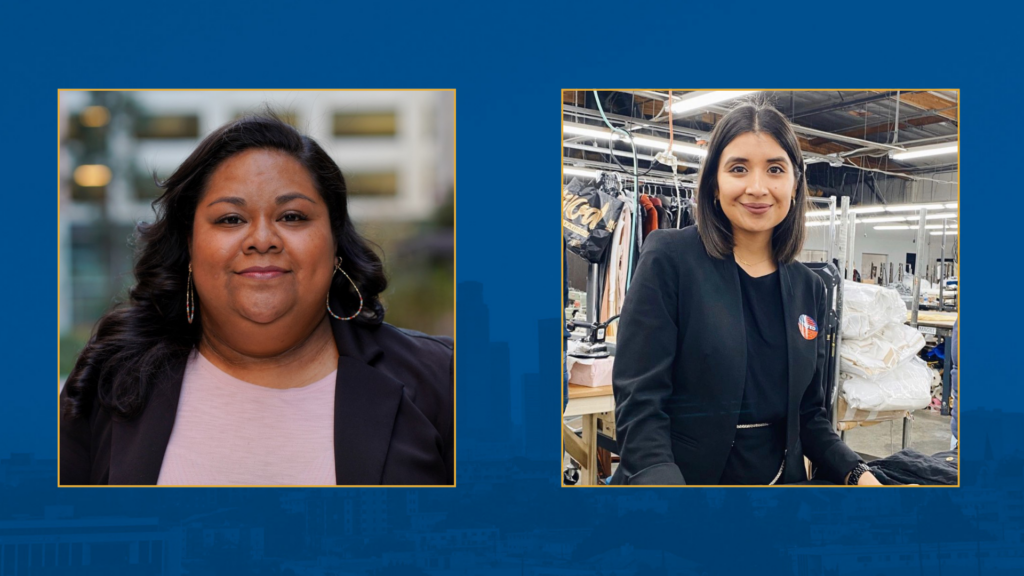 Guadalupe Tlatenchi is the CEO of GTLA Apparel Development, a small business accepted into the 2021 Fund for South LA Founders. She used the $25,000 grant and the training support from Grid110 to help retain staff, purchase new equipment, and PPE to keep her team safe during the pandemic.
Elianne Rodriguez has been a board member of PledgeLA since 2021, was instrumental in scaling Bixel Exchange, and more recently founded Cal State LA's Leading for Equity in Entrepreneurship Accelerator and Fellowship (LEEAF) program, which provides fellows with training, resources, and support to help local women of color entrepreneurs grow revenue, access capital, and thrive.
Check out the PledgeLA Founders Fund website for application info, upcoming applicant workshops, and more.


---
---
Norma: It started off as a small clothing workshop four years ago, but now at age 30, Guadalupe Tlatenchi has six employees. She produces clothing for other businesses, and also has her own line!
Lupe: I'm proud and happy – I love to train my employees, so they can learn other techniques and to use new machines that help them earn higher wages.
Norma: This community-based vision helped her get selected last year as one of 20 small businesses to receive $25k from the Annenberg Foundation and it's PledgeLA initiative.
Lupe: I was able to purchase new machines, and also equipment to help us keep growing.
Calvin: More than a check, the Annenberg Foundation wanted to offer community support – we gather entrepreneurs in a collective, so they can learn lessons from each other.
Norma: Their focus, according to the spokesperson, is the Latinx and Black communities (in her case, she was Latina). While Latinos are nearly half of the local population, they're not well-represented when it comes to employment and businesses.
Calvin: (speaking about application) "…Evidence about that they've accomplished as a business."
Norma: After last year, they will once again be awarding half a million dollars to 20 entrepreneurs from those communities – the application can be filled out from today until April 10th, at www.PledgeLA.org/FoundersFund
Calvin: They just need to fill in their name, some basic details about the business..
Norma: Your business needs to be based in LA County, and not have raised more than $250k from any source.
Norma: And for those that don't make it?
Calvin: For those not selected, we also have other programs and resources that we can connect them to.
Lupe: Don't let this opportunity pass by!
Norma: For more details and for more information about this and other kinds of support, you can contact the Annenberg Foundation at: (213) 403-3032. Good luck! We'll go back to the studio, good afternoon!


---
Yarel Ramos: Why is this help important to those who are entrepreneurs? How can it help the lives of many entrepreneurs who dream of having a small business?
Elianne R: Apart from the benefits of the 500k grant, divided to 20 founders. We offer training and support for those new entrepreneurs. We know that they have many desires and dreams, and it's because of that we dedicate a variety of different support training. Some of which are: counseling, mock interviews and opportunities to get out in front.

Yarel Ramos: Do you need to apply for the help and the program? Is it a course?
Elianne R: Yes the application process is very easy. You need to fill out an application, 10-15 minutes on our website. We ask for an informal video explaining your business. We then will create a shortlist and interviews via zoom

Yarel Ramos: It seems like you will have a lot of people to choose from. We hope that many applications come your way.
Elianne R: Yes! We are looking for ideas from all of Los Angeles County. If they are already established businesses, if they are new and also we are looking for those just starting off or want to grow…
Yarel Ramos: Excellent. Excellent initiative we are seeing with those entrepreneurs in the city. Thank you!

---
Annabelle Sedano: If you want to open a business in Los Angeles County but lack the capital, you can request help to make your dream come true. We connected with Elianne Rodriguez from PledgeLA to talk about this opportunity. Thank you very much for joining us this morning.

Elianne Rodriguez: Good morning to you. Thank you for inviting me.

Annabelle: Elianne and PledgeLA are requesting applications from Latino entrepreneurs, why are you focusing on this particular group?

Elianne: Aside from the fact that Latinos open many businesses, we also know that Latino entrepreneurs have more challenges and those challenges are unique. But we also have unique strengths as Latinos and we have to support them in their own community. That's why we're focusing on Latinos and helping them open more businesses.

Annabelle: And you are doing that by providing $500,000 in capital. How does this program work? And what would an entrepreneur have to do to qualify?

Elianne: We will divide the $500,000 amongst 20 companies. Applicants must have a company located in Los Angeles County. One of the owners or the founder must come from the Latino or African American community and the business must have raised less than $250,000 in funding before applying. Although the application program will be offered in English, we recommend that entrepreneurs be bilingual to take advantage of all the opportunities.

Annabelle: What I find very interesting is that not only are they going to receive that money, but they will receive help to make their businesses successful. How do they plan to do that?

Elianne: We're going to give them 12 weeks of training starting in July through September of this year. And from there we're also going to provide them with additional support to make connections, to talk to other investors, to learn different things that they need to grow their business. We are going to give them support for a full year and we are going to continue to give them resources after the program is over. We are expecting that this money will be invested in their business, that they will have more and more in terms of equipment, that they will add more people to work with them. And remember, we will give them that money and they will not have to return it.

Annabelle: So the important thing here is to apply and you can do it through PledgeLA. That's where they're going to get more information about it. And of course, let's hope that those 20 people do get that good news.

Elianne: Applications close on Sunday, April 10 at 5 p.m. here in Los Angeles. Fill out your application and email us if you have questions.

Annabelle: Excellent! Thank you so much for sharing your time with us and thank you.
---
---