Accelerating access and social mobility for all Angelenos in LA's tech and VC sectors.

PledgeLA is a collective of LA-based tech companies and venture capital firms working to create measurable change. To build a tech sector that will truly reflect the diversity of Los Angeles, we focus on:
Fostering a true committment to accountability – our members participate in annual company and staff-level surveys to help track LA's progress and challenges.
We release annual, action-oriented reports that measure LA's progress towards increasing diversity, equity, and community engagement in the tech and innovation sector. Click below to read our 2023 Venture Data Report:

Gender pay equity remains a persistent concern for LA tech. Regardless of role or experience, women at PledgeLA companies
earn $20,000 less
than men.
Women with 20+ years of experience
make an alarming $90k less
than men of similar tenure.
Take Action
Evaluate the equity of pay for women at all levels, functions, and experience on your team.
White employees out-earn Black and Latinx staff considerably, making an
average of $90k
net of experience and role.
This compares to just
$75k for Black employees, and a paltry $60k for Latinx employees
.
Take Action
Identify and work to address pay equity gaps on your team. Build a transparent compensation structure understood by all employees.


PledgeLA tech companies have a
much larger share
of employees and leaders from under-represented backgrounds when compared to Silicon Valley.
Most white employees in LA tech were
referred by a colleague,
while most people of color applied via the company website.
Take Action
Track applicant data to look for trends/outcomes. Broaden your networks to attract LA talent missing from your team.

VENTURE CAPITAL PORTFOLIO DIVERSITY
Compared to the national average, PledgeLA venture capital firms have invested in almost
twice as many female founders
.
Investments in Black founders are
six times the national average.
Funding to Latinx founders is
eight times the national average.
At the same time, these numbers track well below each identity's share of the local population.
Take Action
Normalize tracking metrics about the diversity of the founders in your portfolio. Set goals to close gaps, and share your progress.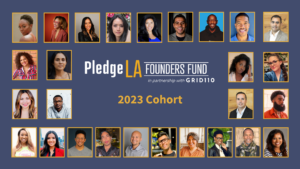 We're thrilled to announce the 19 companies selected for our PledgeLA Founders Fund 2023 Cohort! Created to address the systemic barriers that Black and Latinx
Read More »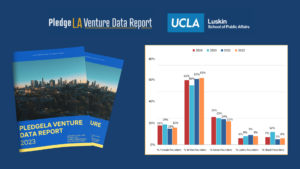 The report by the UCLA Luskin School of Public Affairs reinforces the importance of PledgeLA's recent goal to help double the diversity in Los Angeles'
Read More »